Creative Director
Prison Books Collective
Prison Books Collective is a North Carolina based nonprofit that promotes the right to read for incarcerated people. The Collective sought our help to define their identity, develop a new brand and communication strategy, and equip them with tools to boost their profile both locally and online, in service of their mission.
View the work ︎
You are outside. The United States incarcerates more people than any nation in the world. But beyond the protests and policy debates, there are millions of people living their lives inside prison walls, every single day.
One of the many indignities incarcerated people experience is lack of access to information. Prison Books Collective was founded in 2006 with a focus on giving incarcerated people a semblance of normalcy by providing them with one of the most impactful resources we can offer: something to read. Whether for education, entertainment, or skills-building for life after release, having access to information is critical to fighting isolation and providing opportunities for connection to the outside world.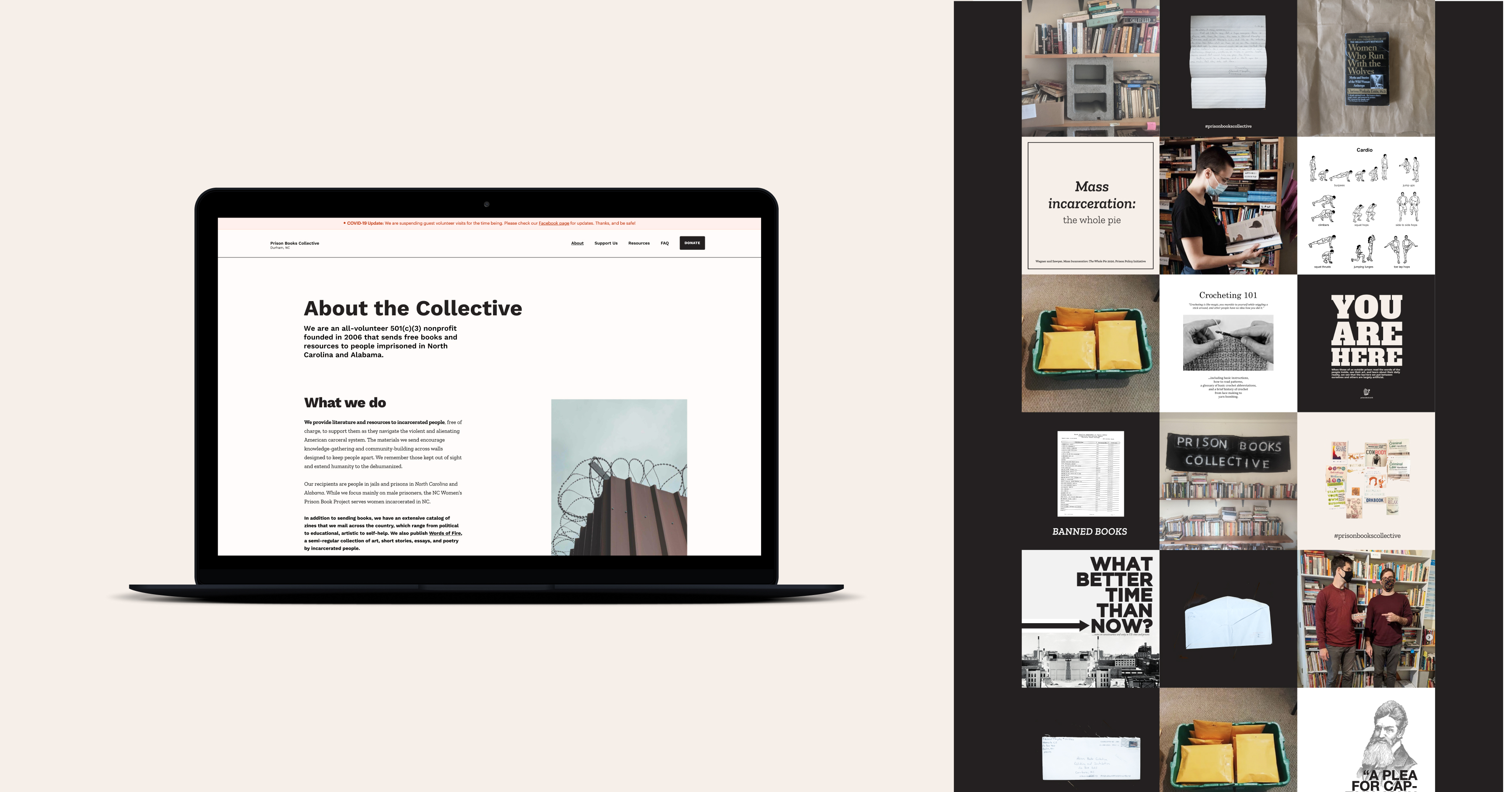 THE CHALLENGE
Mass incarceration persists in no small part because it's largely invisible to people who haven't interacted with the carceral system. We knew that creating awareness would require piercing the public consciousness in an unexpected way.

Even if you're indoors right now, you're experiencing life in the "outside" world, in contrast to those "inside" — our incarcerated neighbors. As we move through everyday life "outside," there are so many liberties we take for granted, or at least don't consciously consider.

Actions as simple as leafing through a magazine while waiting in line, or looking up a bit of trivia on our phones in a moment of curiosity, represent an incredible freedom that is routinely denied to those in prison: access to information.

STRATEGY
Our strategy puts a spotlight on these moments of easy-to-ignore freedoms, exposing our wildly different realities, and inviting a moment of potentially uncomfortable reflection on how our lived experience compares to the experience of those we don't see.
CRITICAL DESIGN
In alignment with the Collective's ethos of transformative justice, this strategy leans on the idea of discursive design, a form of design advocacy that transforms utilitarian design into thought-provoking objects through bold messaging. Using a discursive strategy, swag is transformed into educational and conversational catalysts that prompt self-reflection about mass incarceration.
We worked with Prison Books Collective to create
a bold brand strategy that draws awareness to the incredible freedoms we take for granted in the world outside prison walls and suggests ways we can help our incarcerated neighbors on the inside.
TEAMMATES
Visual Design: Katie Frohbose
Brand Strategy & Copywriting: Natalie Reich
---
Another project, perhaps?