OnGood
We helped the
Public Interest Registry
develop the sub-brand "OnGood," then used that branding to guide a full redesign of the OnGood marketing site. The result is a completely reimagined communication strategy built around the concept of "Shining a light on good in our world".
View the site ︎
CHALLENGE
Introduce and promote a new top level domain that is available exclusively to verified non-governmental and nonprofit organizations.
SOLUTION
Develop a domain-specific sub-brand for .ngo that clearly communicates the new domain's benefits and broader community purpose.
RESULTS
A completely reimagined OnGood brand strategy that promises to "Shine a light on good in our world" and a redesign of the marketing site for the .ngo domain and community.
Going legit. For NGOs and nonprofits, establishing legitimacy in the digital space can often be a challenge, especially as unscrupulous groups can now easily spin up dummy sites and begin soliciting support. As the organization already responsible for the .org domain, the Public Interest Registry (PIR) realized the solution to this problem might lay in the new .ngo domain they had recently begun managing. By offering .ngo only to groups who can verify their nonprofit status, PIR has provided a way to instantly affirm group authenticity through an exclusive domain, and created an online community of .ngo peer organizations. Our task was to help PIR develop the .ngo-specific sub-brand called "OnGood" and then use that brand to guide a full redesign of their marketing site.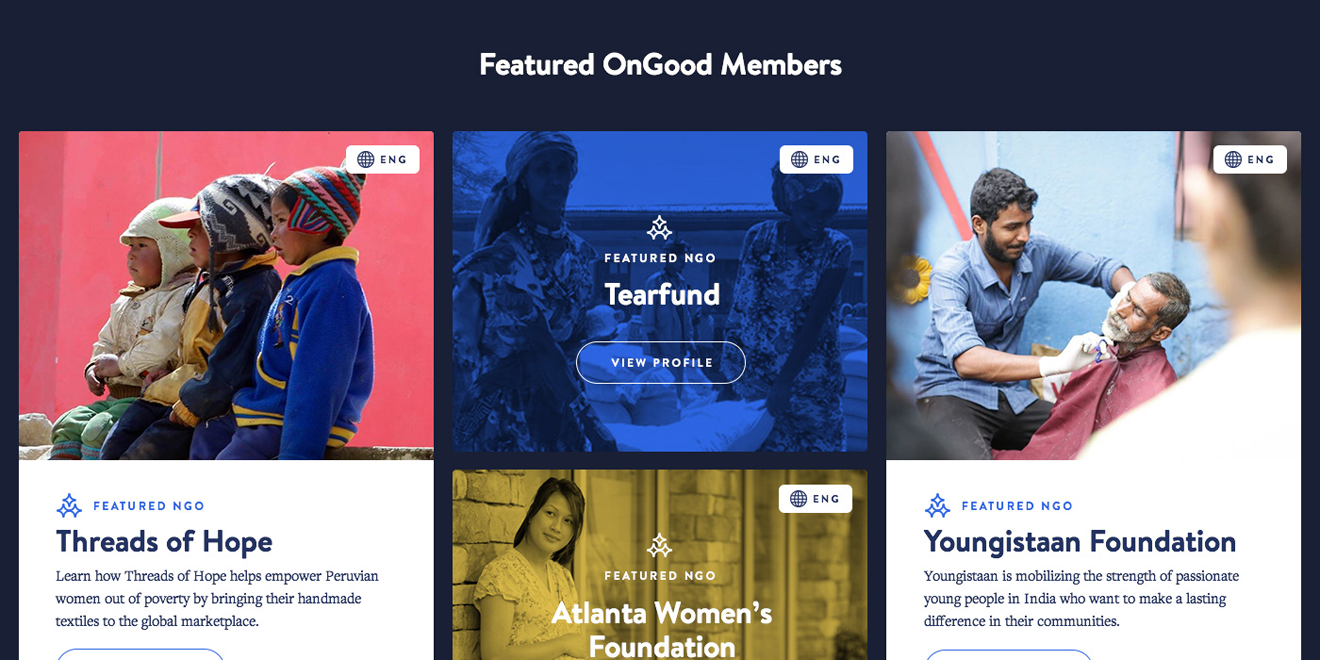 TEAMMATES
Art Direction: Minh Tran
Front-End Development: Jeremy Frank
---
Another project, perhaps?